So my mom made this multiple times when I was a kid and it was a favorite all around! I'm not going to lie to you, this meal is a production and the chili powders are not something you are going to pick up at Kroger or Publix. This is definitely one of those meals you plan for in advance and do it on the weekend! With that being said, once you've made this you will not regret it. It was as yummy as I remember.
Now if you are not a type-A like me with the compulsive need to follow the original recipe in regards to spices (I mean it was written that way for a reason right?), my consultant (aka Mom) says that you can substitute 3 tsp pure ancho chili powder for the others. If you want to be compulsive like me you can check out your local Mexican markets or shop at MySpiceSage.com to pick up the original spices. MySpiceSage.com sells all but the New Mexico chili powder, which is the easiest to find elsewhere. Spice Sage has great prices and throws in free spices too!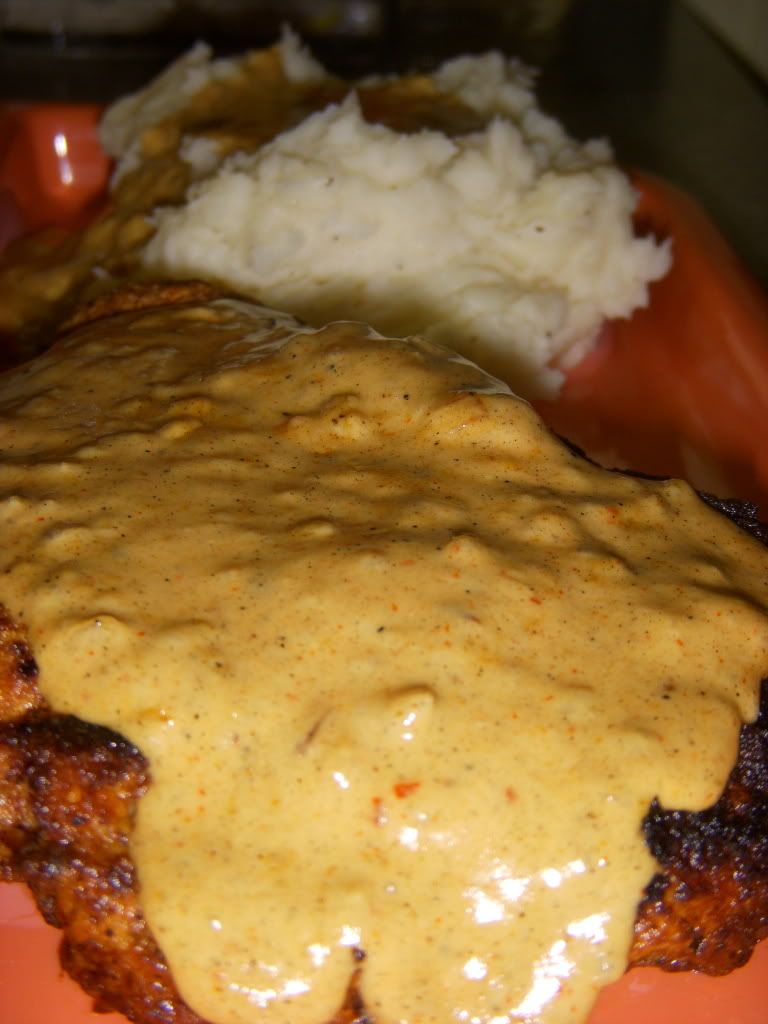 Chicken Fried Steak
Ingredients
2 tsp Salt
1 tsp paprika
1 tsp guajillo chile powder
1 tsp arbol chile powder
1 tsp New Mexico chile powder
1 tsp garlic powder
1 tsp onion powder
1 tsp black pepper
1 tsp white pepper
1 tsp cumin
1 pound boneless beef tenderloin steak, filet, or other tender cut of beef steak, cut into 4 equal portions
3/4 cup plus 3 tablespoons all-purpose flour, in all
1 large egg
1/4 cup milk
2 cups vegetable oil
1/2 cup chopped onions
1 1/2 cups chicken stock
1 cup heavy cream
2 tablespoons chopped fresh parsley

Directions
Combine the first 10 ingredients in a small bowl to make the seasoning mix.
Place the meat on a flat surface and pound each steak with a meat mallet or the side of a saucer, turning the meat as you pound it, until about ¼ inch thick. Sprinkle ½ teaspoon of the seasoning mix on each side of each steak and rub it in well.

Combine ¾ cup of the flour with 1½ teaspoons of the seasoning mix in a shallow bowl. Whisk together the egg and milk in another shallow bowl, beating until very frothy and pale yellow.
Heat the oil in a heavy 12-inch skillet over high heat to 350°, about 5 minutes. While the oil is heating, dredge the steaks one at a time in the seasoned flour, then let them soak 1 to 2 minutes in the egg mixture. When the oil is hot, dredge each steak one at a time in the flour again, pressing the steak into the flour to coat it thoroughly, and immediately place it in the hot oil. Fry the steak until browned, about 2 to 3 minutes on each side. Remove it from the skillet, set aside and keep warm, and repeat the process with the other 3 steaks. You can fry more than 1 steak at a time, if you can keep track of which one needs to be turned or removed, and as long as you place each steak in the skillet directly after the second dredging in the flour.
Pour out and discard all but 1 tablespoon of the oil from the skillet in which the steaks were cooked, leaving the residue of juices from the meat and any brown crust remaining on the bottom. Heat over high heat, and when the oil sizzles, add the onions and cook until light golden brown, about 3 minutes. Stir in the remaining 3 tablespoons of flour and gradually add the stock, whisking constantly. Add the remaining seasoning mix and continue whisking until the gravy comes to a boil, about 2 minutes. Add the cream and parsley and cook 1 minute, whisking constantly. Serve immediately.
Enjoy!