This recipe comes from The Pioneer Woman (lovingly known as PW or P-Dub). I have made this several times with glowing reviews from the family. Her recipe is definitely a higher fat content which on this last making I tried to cut some out. I'm not sure it tasted the same. It's slightly reminicent of Alice Springs Chicken from Outback minus the mushrooms. We also decided on this last go round that this would be fabulous if we used a barbeque chicken breast with bacon and a sharp cheddar. Yummy!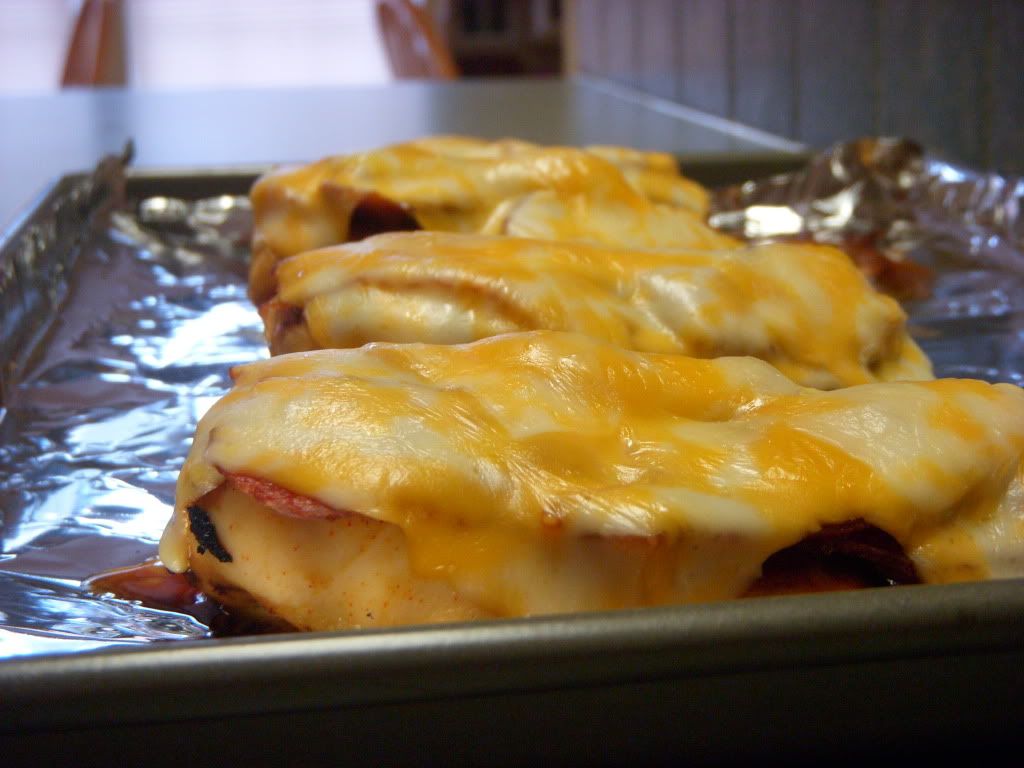 Honey Mustard Chicken
Ingredients
1/2 cup Dijon mustard
1/2 cup honey
juice of 1/2 of a lemon (approx 2 TBS)
1/2 tsp paprika
1/2 tsp Kosher salt
4 boneless, skinless chicken breasts
Thick-cut bacon
Colby-Jack cheese slices
Directions
In a large bowl mix together Dijon mustard, honey, lemon juice, paprika and salt. Mix until smooth.
Place chicken between two sheets of waxed paper and pound to around 1/2 to 3/4 inch thick with a mallet. Next, add the chicken to the bowl with the marinade, cover and place in the refrigerator for 3 hours.
While the chicken is marinating, fry up the bacon. I will tell you that it is worth it to actually fry up bacon as opposed to using the pre-cooked boxed stuff. I used this last time and it wasn't quite right.
Preheat oven to 400.
Place skillet sprayed with cooking spray over medium high heat. If you want a little extra flavor, use the same skillet you cooked the bacon in after have pour off the grease. Those little tidbits in the bottom will give the chicken a little extra oomph! Add the chicken and cook until well browned. Place in the oven for 10 minutes.
Make a little extra of the marinade to go over the chicken - 1/4 cup Dijon, 1/4 honey, 1/4 tsp paprika, 1/4 tsp salt and 1 TBS lemon juice.
Remove the chicken from the oven. Spoon about 2-3 TBS of the extra marinade (the one you made above, not that nasty stuff you marinated your chicken in!). Cover with bacon and cheese. Put it back in the oven for an additional 5 minutes or until the cheese is melted.
Enjoy!